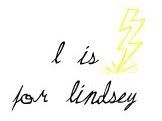 i have a new button, very similar to the last,
but with a little more meaning.
---
Sometimes it takes one big bolt of lightning to show you everything you needed to see in a person. And that lightning strike takes you to your knees because at one time that was everything you ever knew. But it struck fast and then the rain came pouring down. But with that came peace, and a sense of who you are going to be, who you knew you were always supposed to be---me.
if you take it let me know! i have a few buttons listed under "blogs i love tab," and if you would like me to post yours, just let me know!!!
i will grab it and post!
HAPPY